Celebration held for a 186th birthday!
The 186th anniversary of the birth of Suzanne Aubert /Meri Hōhepa coincided with Pope Francis proclaiming 2021 the year of St Joseph. Because St Joseph was so important to Suzanne Aubert/Meri Hōhepa, her birthday celebration focused around the theme of St Joseph. It was a great day. The day began with author Fleur Beale talking about 'The Calling', her recently published young adult novel which has received glowing reviews. It is a glimpse of life at the end of the 19th century with Molly, the main character, searching out Mother Mary Joseph Aubert to find her calling. This was followed by the premiere screening of "Against All Odds", an extraordinary documentary filmed on location at Our Lady's Home of Compassion, Island Bay. It tells the story of Linda Swayn who was one of many children cared for by the Sisters of Compassion over the years. To view an excerpt of the movie,  click here.
In the afternoon the Chapel was full for the annual Commemorative Mass celebrated by Cardinal John Dew assisted by Father James Lyons. Many supporters of the Sisters took part in the Mass. Following Mass everyone gathered around the tomb of Suzanne Aubert/Meri Hōhepa, and the Cardinal incensed the grave during which the choir sang a number of hymns. After Mass the many friends who had gathered joined the sisters for afternoon tea, birthday cake and to sing Happy Birthday.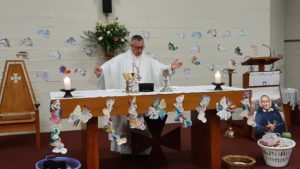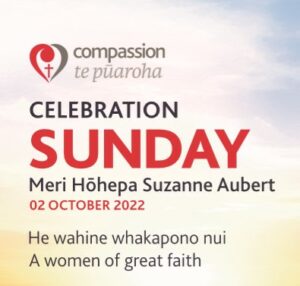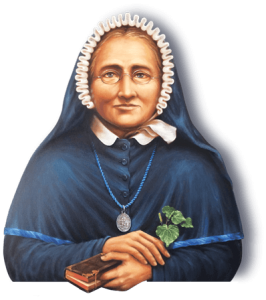 ---