Celebration Sunday 2022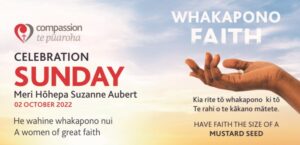 Meri Hōhepa  Suzanne Aubert
He wahine whakapono nui
A woman of Faith
The Sisters of Compassion are grateful that the National Day celebrating the spirituality and good works of Meri Hohēpa Suzanne Aubert, has become part of the National Liturgy Calendar.
Celebration Sunday enables Catholic Parishes to introduce more people to the wonderful works of this great woman. It is a great opportunity for people to learn about the importance of intercessory prayer and why we are praying for her beatification.
The theme, He wahine whakapono nui, A woman of great faith, is reflected in the Gospel Reading of the Twenty-seventh Sunday in Ordinary Time Year C.
Parishes are asked to mark the day of celebration for Venerable Meri Hohepa Suzanne Aubert, on 2 October by including a special Prayer of the Faithful at Masses, publishing an article in their newsletters, and making resource materials available.
Parish Newsletter (Te Reo Maori)
Prayer to Meri Hōhepa Suzanne Aubert
Our communications team will contact your parish promoters, parish secretaries, and other interested people to ensure that this material is available before 2 October. If you do not have a parish promoter at this time, could you please confirm with [email protected]  that you are happy to receive the material directly?
Thank you for assisting with this day of Celebration for Venerable Meri Hōhepa Suzanne Aubert, on 2 October.
All enquiries contact [email protected]
---